So, you started doing Facebook Ads.
Congratulations!
Now you need to provide Facebook Ad access to your Agency Partner so they can help with managing and optimize your Ads. You'll want to do this so you can get the most out of your Ad spend. We'll use Business Manager so your agency can make changes and work on your account for you without having to give them your facebook login.
To provide Facebook Ad Access you need to add the Partner Business ID into your account and provide access to the various parts of the account.
If you are working with Digital Canvas, our Business Manager ID is 2155047781377686.
Business Manager Setup
First, you'll want to make sure you are using Facebook Business Manager. If you don't have a Business Manager account, you'll need to set one up by visiting https://business.facebook.com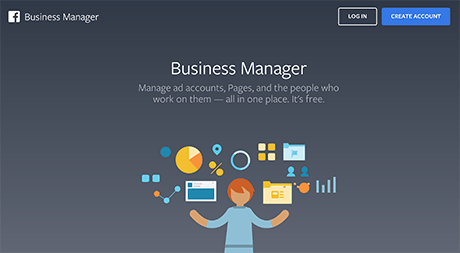 Log in using your Facebook account.
Enter your Business and click Continue.
Next, enter your name and email address and click Finish.
Enter the name of the Business page in the search and claim it in your Business account.
Enter the name of the Ad account and claim it in the business account.
Now you have your Pages and Ad Account added to your Business Account.
Next, we'll provide Agency Partner access to the Page and Ad Account…
Provide Page Access
Click on Business Manager in the top left and select Business Settings.

Select Business Settings from the Business Manager Menu

Next, open the Accounts menu and click on Pages. Select the page and click the Assign Partner button.

Select Pages and Click Assign Partner

Click the link at the bottom of that window "Connect your Page using the partner's business ID instead".

Connect Page using your Partner's ID

Select the Role, Page Admin or Editor, and enter the Partner business ID and click "Connect"

Select Role, enter the Partner ID and click connect
Page Roles:
Admin – has access to everything related to that page.
Editor – An can do everything except manage admin roles and change settings.
Moderator – can send messages as the page, respond to and delete comments, remove and ban people from the page as well as create ads and view insights.
Advertiser – Can create ads
Analyst – Only has access to view insights.
Provide Facebook Ad Access
Next, click on "Ad Accounts" in the Accounts menu.

Select Ad Accounts and click Assign Partner

Select the Ad Account, and click "Assign Partner".
Click the link at the bottom of the window, "Connect your ad account using your partner's business ID instead".
Select the role and add the Business ID and click "Connect".
Ad Account Roles:
Admin – has access to the entire account, including managing ad account setting, adding users and edit funding source.
Advertiser – Create and edit Ads, View Ads, and Access Reports. This is typically the role you want to provide.
Analyst – has access to view the Ads and Reports. An analyst can't change the Ads, create new ones. Only select this level for Ad Audits only.
Add Pixel Access
Open the Data Sources menu and click on Pixels.
If you don't see a Pixel, click "+ Add" to add a pixel.
Enter a name for the pixel and the website URL and click "Create".
Select the Pixel you would like to provide access to and click on the "Assign Partner" button.
Select the role, Pixel Editor and enter the Business ID provided and click "Confirm".
That's it. You're done.
Now your Agency Partner will have the ability to manage, optimize and track the results to get the most out of Facebook Ads.
Google Ads Performance Grade
How much money are you wasting?