SEO Improves User Experience and Search Engine Rankings
SEO will make sure your website has the best chance of being found online. Search Engines need to find and index your site correctly. Errors and an incorrectly configured website can hurt user experience and reduce your search engine rank.
Utilizing the best SEO techniques, we configure your website to ensure the best user experience and search engine performance.
A better search engine and user experience will result in high search engine ranks, which mean more visitors, more traffic, and more sales.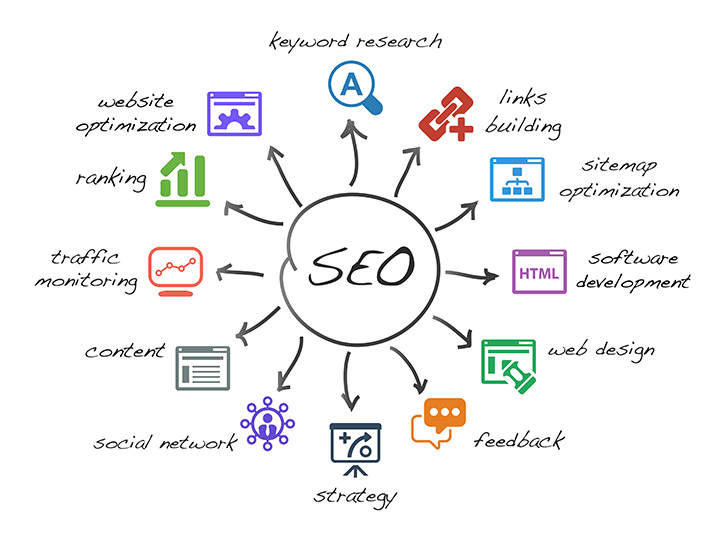 Strategies and techniques working together to achieve one goal; A better visitor experience.
Keyword Research

Identify the right keyword phrase opportunities.

Optimize Website

Fix all the broken stuff so Google and visitors find your content.

Ranking Factors

Of the 200+ Google ranking factors; identify the gaps and close them.

Traffic Monitoring

Determine where visitors click and when and why the bounce.

Content

Create high-value content visitors and search engines will love.

Web Design

Usability and performance are considerations for optimal Search Engine Results.
Strategy

Outline a strategy to get the quickest gains; An action plan.

Reviews

Customer reviews and feedback are valuable for rankings and business insights.

Code Changes

Landing Pages, server adjustments, and programming changes to improve performance and usability.

Social Networks

Build out a complete Social Media profile and strategy to connect with your audience, visitors and customers. 
Frequently Asked Questions
What is Search Engine Optimization (SEO)?
Search Engine Optimization (SEO) is the process of configuring a website and positioning content on a website to increase search engine rankings and improve the user experience.
How long does SEO take to get results?
Depending on the competitiveness of the industry and the current state of your website the amount of work and time will vary.
The first step is to get a complete site audit.
With a Complete SEO Audit, we'll know exactly where the gaps are in your website, and how much work will be required to fill those gaps.
We've seen dramatic results very quickly.
Yes. SEO (Search Engine Optimization) is highly effective and will gain results for any business with the right amount of strategic work.
Think about this... If a website is not optimized for the best user experience, it's mobile-friendly, loads slowly or has errors in the structure or website code, it isn't the best user experience for your visitors. Search Engines rank websites higher on the search results that provide the best user experience and most value to their visitors.
This is a very common question.
This is the equivalent to asking, "How much does it cost to solve a problem?" We first need to know what the problem is.
The cost of SEO for your business is proportional to the amount of work required to get the desired results. It depends on the state of the current website, competitiveness of the market and what you are trying to achieve.
We work to get you the quickest return on your investment as soon as possible.
How can I Rank#1 on Google?
This may seem like a complex answer, but it's really simple.
Deliver the best high-value content and the best user experience for visitors searching for your content. Easier said than done.
Contact us and we'll set up an audit so you know what it will take.
Not everyone can be #1. But, with some SEO and improving the user experience, I'm confident you can improve rankings and website traffic.