Browsers and search engines have been advocating SSL (https) for websites for some time now.
They have been slowly making strides to steer developers and users toward https.
Chrome announced another step in this direction with the latest upcoming browser release, version 56, in January 2017.
It's coming and soon we will be all #movingtoHTTPS
What's the difference between HTTP and HTTPS?
HTTP is a protocol used between the browser and the web server to transmit data; web pages, images, forms, etc.
HTTPS is the secure version of that protocol that keeps the data secure during that transmission (by encrypting the data).
HTTPS prevents hackers from access your sensitive information. It's is a good thing and it keeps us all and our data secure.
What's Chrome (and other browsers) changing?
With the upcoming Chrome release, version 56, in January 2017 non-HTTPS website will be flagged as not secure. As of right now, the information icon is displayed.
With the new upcoming release the words "Not Secure" will be displayed. This change specifically affects sites with logins screens, credit cards, or any website transmitting any type secure or confidential data.
Eventually, all websites serving HTTP will be flagged as Not Secure and the warning message will look more like this: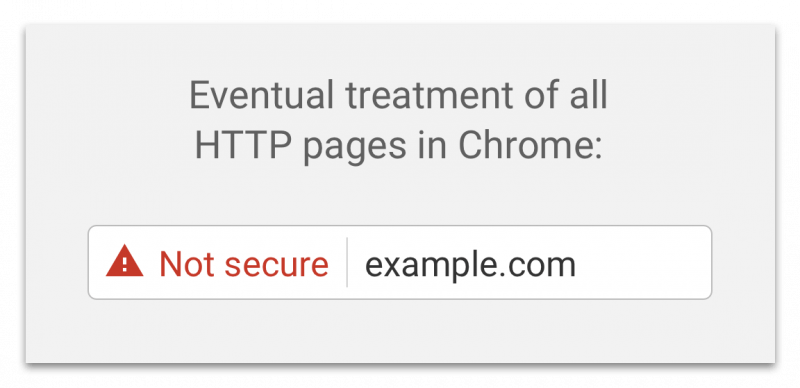 [Tweet "Websites not using HTTPS will be flagged as Not Secure"]
Who does this effect?
The industry shift toward more security affects everyone what uses a submission form or transmits secure data over a website; it's not only for credit card forms but log in, subscription forms, email signup forms and the like. If you have clients logging into your site or submit confidential information, it needs to be running in https. Even WordPress blogs should be running https, and not passing admin login credentials insecurely.
How does this affect my business?
The good news is your website and visitors will ultimately be more secure. It also means, if your site is not secure, visitors will be notified or blocked from visiting your site. This could result in a loss of traffic and sales. Yes, this could affect your bottom line. Avoid your website visitors being blocked by SSL messages and get SSL now.
And you won't belive this benefit…
Google announced in 2014 https will be a ranking signal for higher search engine result rankings. Although this started affecting 1% of websites in 2014, Google's https everywhere effort will be cracked up as time goes on.
[Tweet "Not using HTTPS could affect Google ranking"]
How do I get secure?
The solution is to install an SSL Certificate. Installing a certificate doesn't immediately force all pages, images, and content to use SSL it just gives it the ability to. The second step is to make sure all your pages and content are taking advantage of SSL.
At Digital Canvas we can help you with this process. First, we'll install an SSL Certificate, then test to make sure all the referenced content is using the certificate so there are no errors. Just having an SSL Certificate isn't enough if your pages and content aren't using it. Code changes may be needed to use HTTPS correctly.
References
Google HTTPS Transparency Report
HTTPS Encryption – What is the impact of TLS/SSL on Rankings?